"Why are you working here at UConn?" As a member of the Coalition for Life-Transformative Education, UConn seeks to imagine what our University would look like for students if every one of our faculty and staff responded to that question with: "We are here to help transform the lives of UConn's students."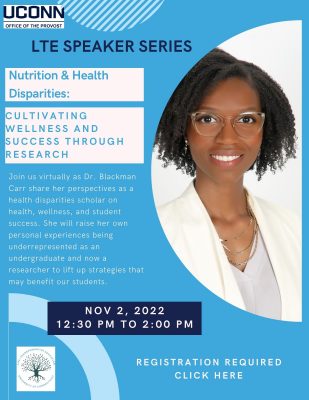 LTE Speaker Series: Dr. Loneke T. Blackman Carr, RD
"Nutrition & Health Disparities: Cultivating Wellness and Success through Research"
Wednesday, Nov. 2, 12:30 to 2 p.m.
Virtual event, please click here to register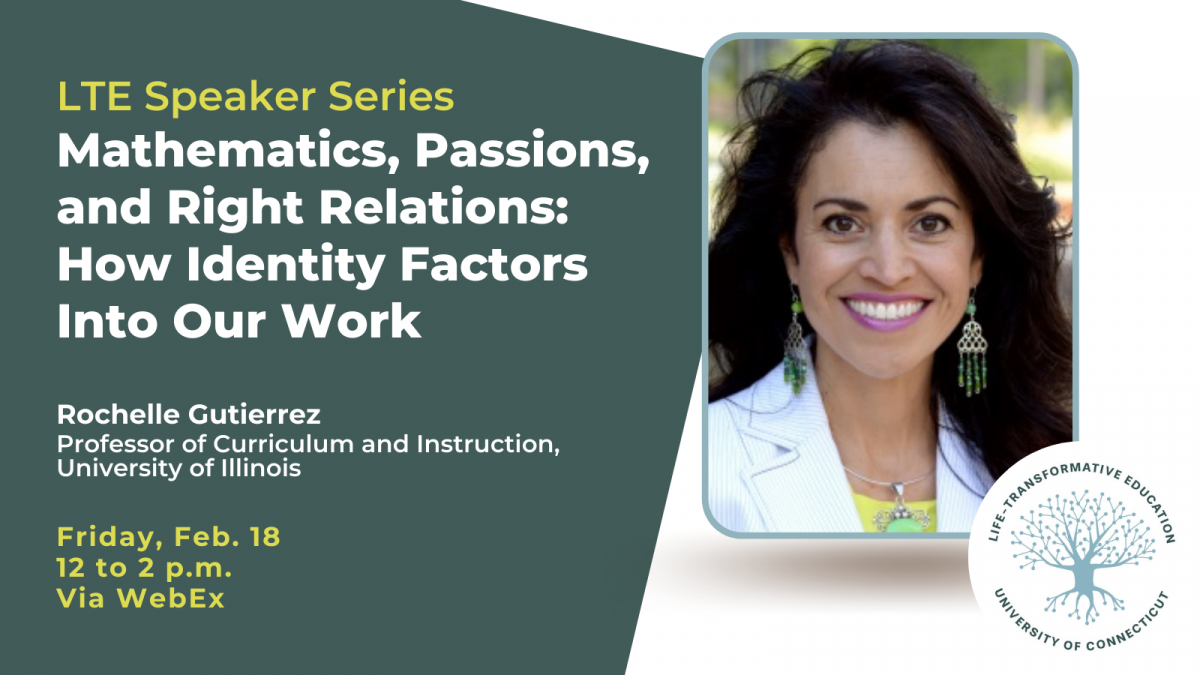 LTE Speaker Series: Dr. Rochelle Gutierrez

"Mathematics, Passions, and Right Relations: How Identity Factors Into Our Work"
Friday, Feb. 18, 12 to 2 p.m.
Dr. Gutierrez is a Professor of Curriculum and Instruction at University of Illinois, Urbana-Champaign. Dr. Gutierrez' scholarship focuses on issues of identity and power in mathematics education, paying particular attention to how race, class, and language affect teaching and learning. In this talk, Dr. Gutiérrez will expand on how her life growing up around powerful womxn and activists taught her to channel her passions into her academic and life work. She uses the case of mathematics as an example of how we are taught to simply accept the stories we are told and how a deep grounding in ourselves can help us challenge those stories and write new ones.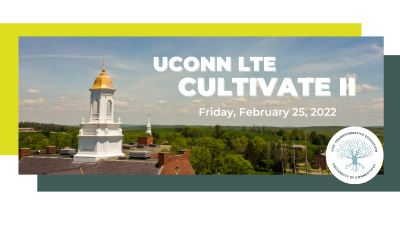 UConn LTE Cultivate II

Friday, Feb. 25, 11 a.m. to 3:30 p.m.
The UConn LTE Cultivate workshop returns with a new slate of activities to inspire, develop, and empower all faculty and staff as Life-Transformative Education champions. Whether you're an experienced LTE champion, just getting started, or simply curious, you are welcome to join colleagues to engage in conversation and brainstorming to activate LTE principles throughout UConn. The half-day workshop will include a wide variety of activities, including breakout sessions with focus on topics including mentoring, advising, service learning, and DEI principles; wellness activities; and a keynote conversation with Dr. Amelia Parnell, vice president for research at NASPA, Student Affairs Administrators in Higher Education.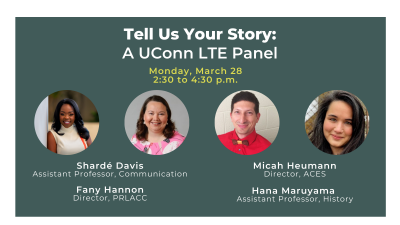 Tell Us Your Story: A UConn LTE Panel

Monday, March 28, 2:30 to 4:30 p.m.
Join us for this panel featuring UConn faculty and staff, sharing their experiences in infusing LTE principles into their interactions with students, from teaching practices to student mentoring and more.  
Featuring Shardé Davis, Assistant Professor, Communication; Fany Hannon, Director, Puerto Rican/Latin American Cultural Center (PRLACC); Micah Heumann, Director, Academic Center for Exploratory Students (ACES); and Hana Maruyama, Assistant Professor, History.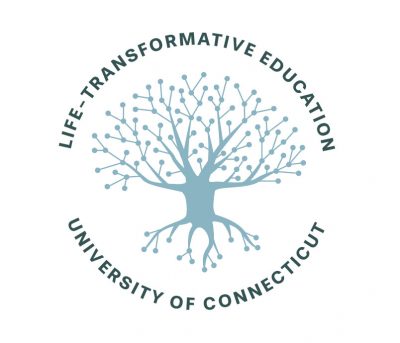 Call for LTE Design Sprint proposals

The Life-Transformative Education initiative at UConn invites faculty and staff to submit proposals for our first LTE Experiential Learning Design Sprint. We have partnered with design thinking facilitators from The Design Gym to lead a few teams of faculty and staff through a process to scale up, develop, or improve experiential learning opportunities at UConn. The goal is both to enhance experiential learning options at UConn as well as train a cohort of faculty and staff in design thinking.