"Why are you working here at UConn?" As a member of the Coalition for Life-Transformative Education, UConn seeks to imagine what our University would look like for students if every one of our faculty and staff responded to that question with: "We are here to help transform the lives of UConn's students."
LTE at UConn: An Open Forum

Friday, Dec. 10, 3 to 4:30 p.m.
What is LTE at UConn and how does it seek to transform the undergraduate student experience? All faculty and staff are invited to this forum to learn more about the work that has taken place so far and how individuals and offices can be involved in leading this exciting initiative forward.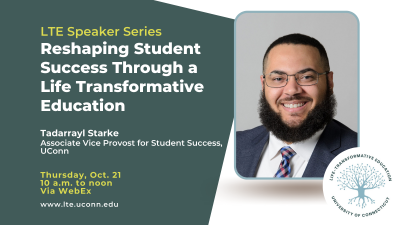 LTE Speaker Series: Reshaping Student Success Through a Life-Transformative Education

Thursday, October 21, 10 a.m. to 12 p.m.
For over 20 years, Dr. Tadarrayl Starke has been committed to student success, with an emphasis in serving students traditionally underrepresented in higher education like himself. At the University of Connecticut, he serves as Associate Vice Provost of the Institute for Student Success. 
LTE Task Force Publishes First Report, Fall 2019 to February 2021

The Life-Transformative Education Task Force has issued its first report, which finds that individual professors and programs at UConn are deeply committed to this type of educational experience. The grand challenge is to effectively extend and scale life-transformative educational experiences to every single one of our 24,000 undergraduate students by their graduation.