"Why are you working here at UConn?" As a member of the Coalition for Life-Transformative Education, UConn seeks to imagine what our University would look like for students if every one of our faculty and staff responded to that question with: "We are here to help transform the lives of UConn's students."
LTE Task Force Publishes First Report, Fall 2019 to February 2021

The Life-Transformative Education Task Force has issued its first report, which finds that individual professors and programs at UConn are deeply committed to this type of educational experience. The grand challenge is to effectively extend and scale life-transformative educational experiences to every single one of our 24,000 undergraduate students by their graduation.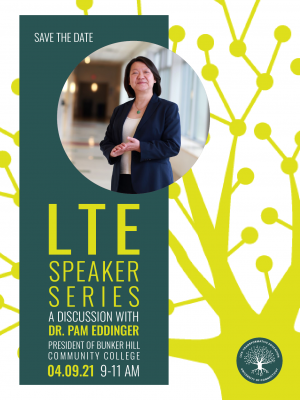 LTE Speaker Series: A Discussion with Dr. Pam Eddinger

Friday, April 9, 9 to 11 a.m.
Dr. Pam Eddinger is president of Bunker Hill Community College (BHCC), the largest of 15 community colleges in Massachusetts.  Dr. Eddinger began her tenure at BHCC in 2013 and previously served as president of Moorpark College in Southern California from 2008.