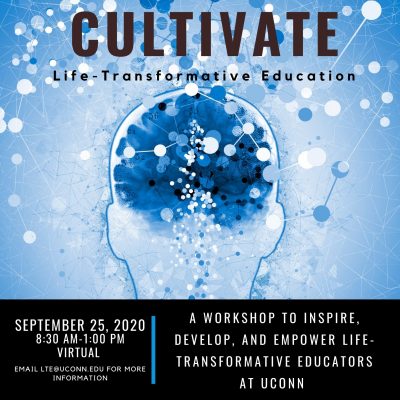 CULTIVATE - Life Transformative Education
A workshop to inspire, develop, and empower Life-Transformative Educators at UConn
Friday, September 25
8:30 a.m. to 1 p.m., virtual event
Email lte@uconn.edu for more information.
On September 25th, the University of Connecticut hosted more than 150 faculty and staff from all corners of our sometimes disconnected University (14 schools and colleges spread across five regional campuses) in a day-long program of ideation and conversation around issues of life-transformative education. Titled "Cultivate," the event served to introduce LTE to key stakeholders at the University and spur them to future engagement and involvement in UConn's LTE efforts. Facilitated by culture change professionals from The Design Gym, Cultivate included a mix of short, intensive working sessions that put participants into more than 20 small breakout groups and large plenary sessions led by UConn President Tom Katsouleas and UConn Provost Carl Lejuez. The event concluded with summary remarks by CLTE Steering Committee Chair, Rick Miller. Along the way, the assembled brain trust collected more than 2500 individual ideas for promoting life-transformative education at UConn.
Cultivate was guided by two principles. The first was "Listening Louder." Instead of bombarding participants with external ideas, Cultivate aimed to use the event to bring together already life-transformative educators – the people already doing the necessary work – and challenge them to think about how to extend and scale their practices to the entire university community. The primary role for higher administration in the Cultivate event was to listen and learn. The second was "Empowering Ideas." For those portions of the program that were less participatory (for example, Rick Miller's talk), speakers were encouraged not to lecture, but to provide scaffolding ideas that could help the grassroots community realize its own vision. The goal was that this initial cohort of life-transformative educators would leave Cultivate excited at the possibilities for expanding their work at UConn and for spreading their approaches to their peers.
Cultivate was intended as the kick-off for UConn's LTE efforts over the course of the academic year, which will include a monthly speaker series; a series of "rapid response" projects proposed by faculty and staff and designed to respond to opportunities to extend LTE at UConn as they emerge; and continued research, assessment, and outreach work by UConn's LTE Task Force
---