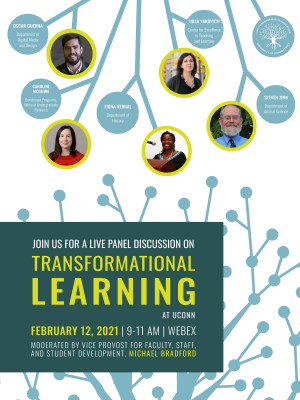 LTE Speaker Series: Featuring a Live Panel Discussion on Transformational Learning at UConn

Friday, February 12, 9 to 11 a.m.
Virtual event, RSVP not required
If you require an accommodation to participate please email lte@uconn.edu.
UConn's Life-Transformative Education Task Force is pleased to announce a live panel discussion on transformational learning at UConn. Sessions for Spring 2021 will focus on issues such as creating equitable faculty advising structures, faculty-staff cooperation, and building inclusive experiential learning opportunities in the classroom.
Panelists include:
Oscar Guerra, Department of Digital Media and Design
Caroline McGuire, Enrichment Programs, Office of Undergraduate Research
Fiona Vernal, Department of History
Julia Yakovich, Center for Excellence in Teaching and Learning
Steve Zinn, Department of Animal Science
---